As much as we love our dogs, there is no love for the amount of cleaning that comes with owning a dog! Constant muddy paws, dog hair, and slobber! Here is a list of the best cleaning products I have come across in my years of having a dog in the family.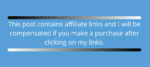 For The Dogs
Burt's Bees Oatmeal Shampoo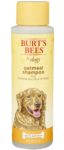 Let's face it, there is going to be a time where your dog gets down and dirty and the only option is a bath. It's best to have the best shampoo possible on hand. Especially if you have a dog that needs baths regularly. Having a good shampoo helps keep them clean longer and prevents dry skin.
Burt's Bees Oatmeal Shampoo is incredible. It is gentle on a dog's fur and skin while breaking down all the dirt and grim. It is also a more bang for your buck product. The smallest amount goes a long way so you don't need to buy this product as often!
Shammy Towel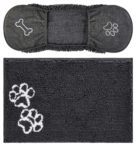 After that bath is done, a towel drying is absolutely necessary. You want to make sure you absorb as much water as possible before your pup does the dramatic post-bath shake! A microfibre towel is your best bet! They absorb water like crazy.
I personally love the shammy towels because you can hold onto the towel firmly while drying your pup. This Shammy Towel and Floor Mat combo is even better because it gives your pup a place to stand when being dried.
Paw Plunger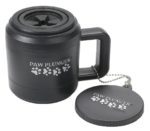 After a long hike in the woods, there is a large possibility that your dog's feet are covered in dirt or mud. One of the best foot cleaning products is a Paw Plunger.
It is so easy to use too! Just fill the plunger with warm water and a couple drops of Dawn Dish Soap. Then put your pup's foot in the device and plunge! The bristles get all the nooks and crannies of your pup's feet. After the cleaning is done, just wipe dry, and your dog is good to go!
Pet Wipes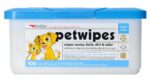 Sometimes those dirty feet do not need a full cleaning but could use a wipe down. Petkin Pet Wipes are great for easy clean-up on feet. It also works well for a quick wipe down if your pet got into something stinky in their fur.
Cleaning Products For The House
Nature's Miracle Cleaning Spray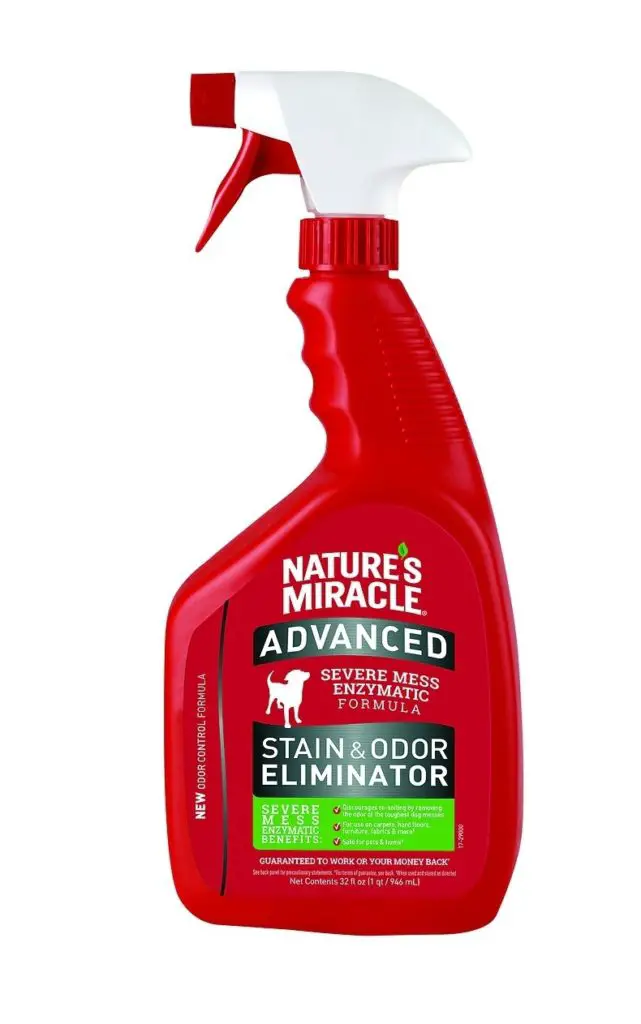 When it comes to those spills and messes that come from our four legged children, this is the spray to grab! Nature's Miracle Cleaning Spray is made with pets in mind. It is pet safe, so no chance of burns on those feet. And it kills pheromones! So the lovely smells left behind by doggie urine get removed completely. 
This is such a necessity in my home that we have one spray bottle on each floor and then purchase the 1.3 gallon refill jug for when those bottles go dry! 
Lint Remover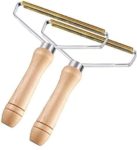 If your home is like mine, there is dog hair everywhere. But the worst part is that it sticks to everything and never comes off. This is where a decent lint remover is needed! The lint remover I recommend is the style that can really get into the fabric of clothing or furniture and bring up the most stuck hair there is. I always use this on my carpeted stairs before vacuuming. 
Febreeze Odor Eliminator Spray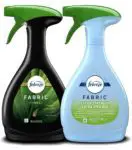 Lots of pet owners across the world allow their pets on the furniture. Why not? They are family! But with that can come the dog smell stuck in the furniture. Having a good odor eliminator spray helps cut that dog smell!
Febreeze Odor Eliminator Spray are the best cleaning products to use on furniture! It eliminates the smell left behind and replaces it with a fresh clean smell. You can get scentless too so that it doesn't take away from other scented things in your home. 
Pet Odor Exterminator Candle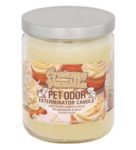 Who doesn't love a good candle? But did you know there are candles specifically made to eliminate pet odors while they burn? Pet Odor Exterminator Candles have a ton of different scents and they don't disappoint. Within minutes the pet smells are replaced with the fresh smells of cleanliness. 
Wallflowers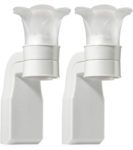 In my home, every room has its own Wallflower and scent. I find these a staple when it comes to owning a pet! The smells pets give off are constant so why not keep up with that?
Wallflowers plug right into your outlet and release clean smells into the room for twenty-four hours straight. There are so many different bulb refills you can get so each room has a unique smell!
Bissell EV675 Robot Vacuum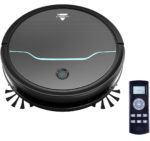 I have had a Bissell EV675 in our home since 2020 and there hasn't been a day I don't use it. I set up my vacuum to go off at 5PM every day and it runs for about an hour and a half. Since getting it there is little to no dog hair in my house. I also find myself dusting way less too!
I love my robot vacuum so much, I even purchased a second one for the second floor so I didn't have to carry it up and down the stairs. This way I can make sure each floor gets vacuumed, especially for those days when I am not home at 5PM. This makes every inch of my home dog hair free!
The robot vacuum gets every inch of the area it can reach. It does hardwoods, carpet, area rugs, tile, and more. As long as the furniture is high enough, it will even go under furniture to vacuum that area.